Reliability
long-term stable and repeatable results
Time
less calibration effort
Quality
control of moisture, density, grammage and temperature
Measurably better - No matter whether paper, cardboard, or corrugated board our high-performance solutions are simple: we provide patented microwave technique tied to passion driven services. Why? The answer is as simple as our solutions: to improve the production process of our clients. Or, in other words: to help our clients to achieve better results.
Our solutions have been developed and designed hand-in-hand with the paper and cardboard industry and, therefore, fulfill all requirements in terms of reliability and precision.
The TEWS method enables paper and cardboard companies to gain high-precision data about the moisture content and density of their products. It's a one-stop-shop without any sample preparation to optimize the whole production process in terms of cost savings and quality control.
Best practice
How Leading Companies Benefit From TEWS.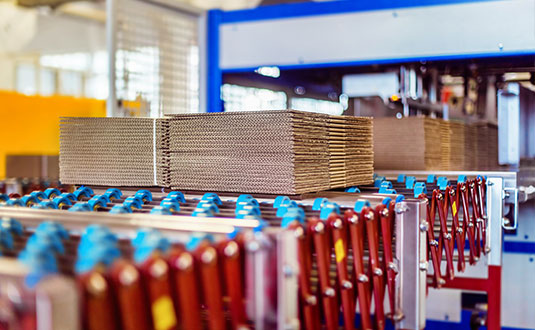 Inline Measurement at Corrugators
In order to achieve the highest quality corrugated board, balancing the moisture content of the liner papers is crucial. TEWS' sensors are able to accurately "see" moisture variations and to provide precise, reliable and density-independent moisture feedback. Moreover, the measurements are not limited to the surface layer of the paper(s) but provide the moisture of the entire thickness of the paper(s).
We have installed moisture measurement systems on new and existing corrugators and in combination with actors that provide corrugated board with greatly enhanced dimensional stability.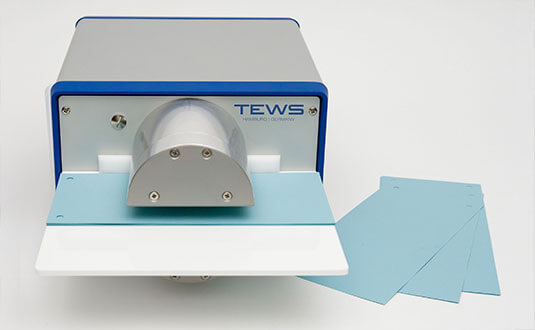 TEWS in the lab of a paper producer
With TEWS it takes seconds to measure a sample in one step, compared to others which takes more than 15 minutes with a conventional drying oven. Furthermore, the measurement of the paper grammage is possible in one step, as the TEWS microwave method is measuring moisture and grammage in one single step.
Simply insert the sample into the sensor and immediately read the values for moisture and paper weight on the display.
Easy to use in the lab but also in the control room for the operator to make quick checks and avoid waste production. At an average machine speed of 300m/min every second counts to get reliable results within seconds!
If no real-time moisture and paper weight system is available, you can get closest to real-time results with our laboratory instrument.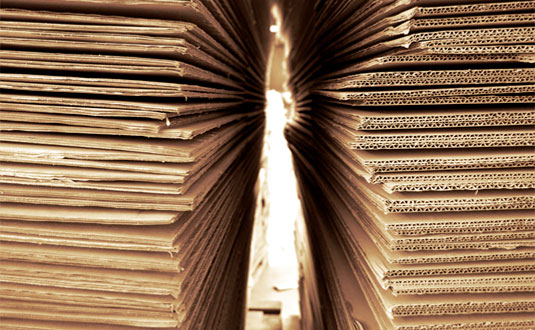 Paper or corrugated board sheet counter
More precise than a weight scale in terms of measuring the moisture corrected dry paper weight and more robust and thus reliable than any optical method: Use microwave technology to count the number of paper or cardboard sheets at the end of a production line.
Readings are independent of the product moisture. No additional weight scale or any other instrument to determine the mass of the goods is needed. If the dimension of the product to be measured is known, the density can be measured as well.
Paper Industry As a Partner
Water Matters.
Product quality and -efficiency can be significantly optimized by controlling the moisture content in almost all process steps. Managing the moisture of paper and cardboard is a key factor to achieve better results. TEWS patented solutions deliver high precision results. It's what matters when it comes to company goals and how to achieve them faster.
Fast Inline Measurement – The continuous moisture measurement at top-speed helps to cope with changing ambient process conditions and there is no need to wait long time on the results of spot checks.
Improving Operating Efficiency – With our measurement results operators can utilize their advanced machines at an optimum and reduce downtimes and waste to a minimum.
Warp-control – By checking the moisture of the single layers of paper before they are joined for the cardboard in combination with systems that effectively apply water the board flatness is significantly improved by the same time as the speed is increased thus resulting in a significant productivity gain. A key word in this context is "dimensional stability".
Product Quality – A precise moisture level is decisive for the quality. And that, in turn, satisfies your customers and reduces their claims.
Optimizing Margins – Knowing the exact water content of cellulose bales helps avoid buying water instead of cellulose – in other words: It avoids paying the price of cellulose for additional water.
MOISTURE & DENSITY SOLUTIONS
It Takes Two.
TEWS patented two-parameter measuring solutions enable the paper and cardboard industry to work with high precision data in both ways at the same time. Data that relate to the moisture content of paper and cardboard products as well as their density. Knowing the grammage of paper and carboard products during the manufacturing process leads to even better results in terms of product quality and -efficiency.
Detecting Splice – Measuring the density or paper grammage online enables the operator to reliably detect splices. Grammage control and splice detection in one application – that is unique.
Quality Control – For quality control reasons, the grammage of the paper must be measured at the end of the paper production process. Microwave technology replaces expensive and aging measuring cells based on radioactive sources, which also cause a lot of paperwork and administration due to strict regulations.
Sheet Counting – Counting the number of paper or cardboard sheets at the end of the production line
WHERE TO USE
Areas of Application.
TEWS HARD- AND SOFTWARE SOLUTIONS
Learn More About Our Patented Solutions.
Get in touch
How Can We Help You?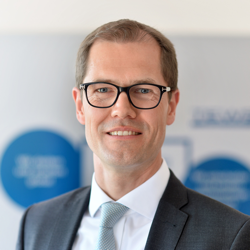 General Manager
Dr. Tim Richter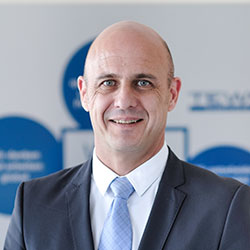 VP Sales America
Mark Moir
Download our flyer
More information