MW 4260/MW 4270 and MW 4200
Inline Measurement Solutions.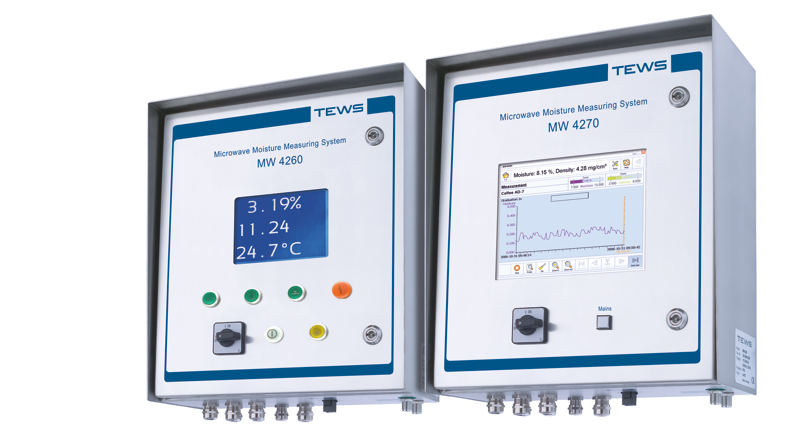 TEWS has developed a range of process instruments with which the moisture content as well as the bulk density can be continuously measured during the production process. With the help of microwave sensor that is integrated into the process, the values are measured and visualized reliably and accurately in a matter of seconds with up to 3,500 readings per second. A quick and targeted intervention in the production process is thus possible.
The process measurement instruments are made with tough industry environments in mind. For example, MW 42XX-series instruments optionally come in a compact housing. Variants with special explosion protection are available for installation in dust and gas Ex zones.
The MW 4270 features an integrated touch TFT screen for highest convenience and ease of use. The MW 4260 has a three lines display. All versions can be connected to a PC and controlled using the TMV software. The MW 4200 is the perfect alternative for applications where the distance between the sensor and the display needs to be longer (up to 8m).
Brief Description
Process Instruments for Inline Measurements.
Online measurement instruments for full real-time process inspection. With a built-in 10.4" (26,4 cm) color touch screen, for complete on-site operation and results display in the MW 4270, or with a small 5" (14,5 cm) screen to read the current measurement values and status display in the MW 4260.
MW 4260/70 and MW 4200
Technical Data.
MW 4260/70 and MW 4200 introduce you to high-performance moisture and density inline measurement.
Electrical Power Supply: 110 - 230 V AC, 50-60 Hz
Power Consumption: 160 VA (MW 4260) or 200 VA (MW 4270)
Ambient Temperature: 0 - 45 °C
Display: MW 4270 – 10.4" (26,4) LED color touchscreen, MW 4260 – 5" (14,5 cm) LCD screen, MW 4200 – single line LED display
Data Interfaces: 1 x Ethernet / 1 x analogue input (0/4-20 mA) / 3 x analogue output (0/4-20 mA) / 8 x potential-free digital outputs / 8 x digital inputs
Options: Various Fieldbus and Modbus TCP
Measurement Time: up to 3,500 measurements per second
Data Memory: 60.000 measurements on device, unlimited on external server
Features: IP55 protection for industrial use, ATEX protection possible for gas and dust
Download our flyer
More information