Time
additional production time per year of FBD
Quality
control – of finished tablets and capsules
Regulation
ATEX, CFR 21 Part 11, IQ/OQ conformity
Measurably better - No matter whether granulation or spray drying processes, tablets, capsules or micro dosing, our high-performance solutions are simple: we provide patented microwave technique tied to passion driven services. Why? The answer is as simple as our solutions: to improve the production process of our clients. Or, in other words: to help our clients to achieve better results.
Our solutions have been developed and designed hand-in-hand together with the pharmaceutical industry and, therefore, fulfill the requirements of CFR 21 Part 11 which are available in different Atex-standards including IQ/OQ-documentation.
The TEWS method enables pharmaceutical companies to gain high-precision data about the level of moisture content and density of their products. It's a one-stop-shop without any sample preparation to optimize the whole production process in terms of cost savings and quality control.
Best practice
How Leading Companies Benefit From TEWS.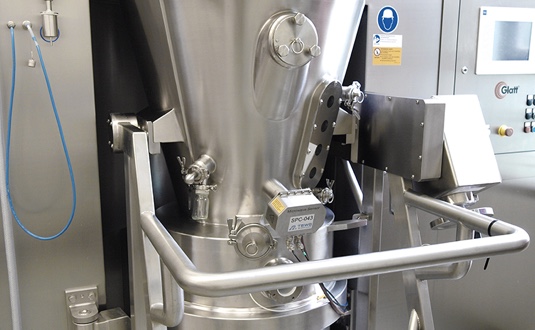 Automatic Determination of Target Moisture in Fluid-Bed-Processes
Monitoring the moisture throughout a fluid bed drying process enables the operator to determine the end-point of the drying process precisely without multiple interruptions and without taking several samples to the lab.

A well-known customer who is doing business on a global level calculated that with being able to turn-off the FBD precisely he would save EUR 50,000 per FBD p.a. and earn additional EUR 90,000 per FBD p.a. as he is able to increase capacity by 6% resulting in additional 300 hours of production p.a.

In the new world of continuously production (conti vs. batch) the operation without online moisture control is not advisable.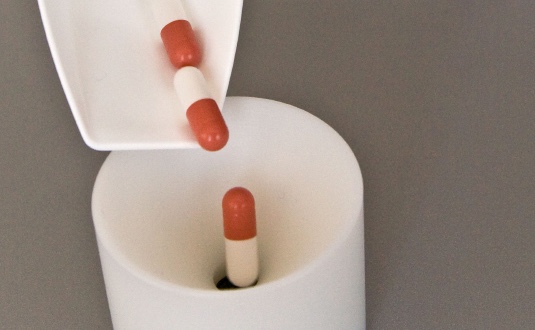 Measurement of Empty Capsules
A global pharma market leader applies TEWS to measure the moisture of empty capsules. The possibility to transfer calibrations from one system to another, the long-term stability of calibrations and the fact that our results are independent from external factors like atmospheric pressure, temperature, light etc. convinced the customer.

For more than 20 years he is using our systems as a worldwide standard with uniform calibrations and systems. Thus, the number of variables which can influence the measurement is reduced to a minimum.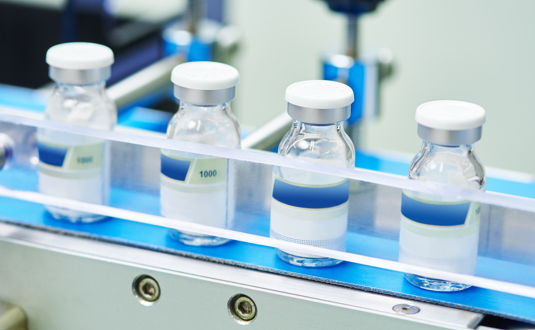 High-Speed-Dosing With TEWS
We can help you to simplify the dosing of granules or powders significantly compared to conventional dosing applications.

The density measurement functionality allows us to measure not only the moisture but also the mass flow. With valves you can stop a flow of granules or powder after a pre-specified mass has run e.g. into a capsule. This is possible down to as far as 10mg.

This enables you to ensure that each and every capsule is filled correctly and the weight and ingredients meet specifications 100%.

Besides that with up to 40,000 measurements per second we are much faster than any mechanical balance.
Pharma Industry as a Partner
Water Matters.
Product quality and -efficiency can be significantly optimized by controlling the moisture content in almost all process steps. Managing the moisture of pharmaceutical products is a key factor to achieve better results. TEWS patented solutions deliver high precision results. It's what matters when it comes to company goals and how to achieve them faster.
Production Efficiency – Gaining up to 300 % additional production time of FBD per year.
Product Quality and Product Safety – A precise moisture level is decisive for the quality. Especially in the pharmaceutical industry a wrong moisture level can even harm the product safety as active ingredients may change and turn into toxic.
Securing High-Speed-Production – Modern high-speed machines are fragile in a sense that minor deviations from the specified inflow or any piling-up within the production flow leads to severe interruptions. With up to 40,000 measurements per second we are well ahead of all pharmaceutical-related production processes.
Plant Efficiency – With our measurement results operators can utilize their advanced machines at an optimum and reduce downtimes and waste to a minimum.
Storage Efficiency – Precise compliance with the recommended water content of components secures product integrity.
MOISTURE & DENSITY SOLUTIONS
It Takes Two.
TEWS patented two-parameter measurement solutions enable pharmaceutical companies to work with high precise data in both ways at the same time. Data that relate to the moisture content of pharmaceutical products as well as their density. Knowing the precise weight of pharmaceutical products during the manufacturing process leads to even better results in terms of product quality and -efficiency.
Mass Flow and Balance Check – Accurate density information being used to assure constant filling levels.
Quality Control – Securing homogenity of your products.
Product Safety – up to 100% control of finished tablets and capsules to ensure right target weight and content at high speed.
Plant Efficiency – Automatic dosing at high-speed without balance checks.
WHERE TO USE
Areas of Application.
TEWS HARD- AND SOFTWARE SOLUTIONS
Learn More About Our Patented Solutions.
Get in touch
How Can We Help You?
Holding this position, I have cultivated a large international network which has ensured my continued success in the pharmaceutical industry. Customer satisfaction is particularly rewarding and I am passionate about interacting in an intercultural environment.