MW 4300/MW 4310
High-Performing Laboratory Measurement Solutions.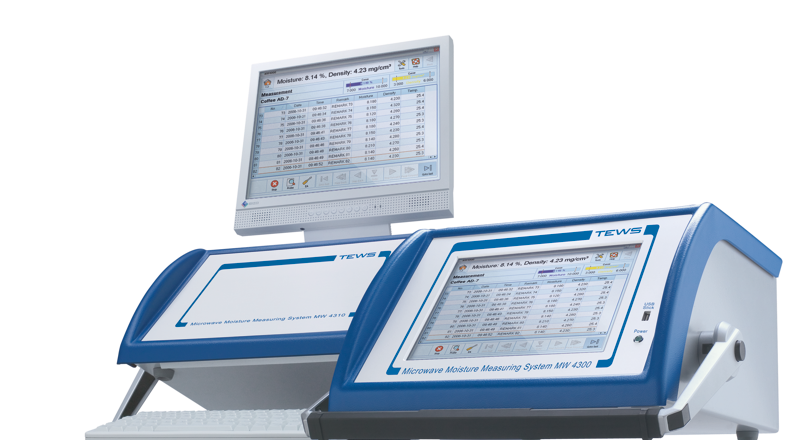 The laboratory testers MW 4300 and MW 4310 stand for the high quality laboratory measurement of moisture and bulk density.
These robust and functional systems are extremely easy to operate. Product samples can be measured without any preparation. No grinding, weighing before and after the test, or use of chemical reagents. The sample under analysis is neither modified nor heated and can usually be returned to ongoing use.
Measurement results are obtained within seconds. As soon as the sample is filled into the sensor, the result will be displayed. Results are stored in the instrument together with the date, time and other operational details. The measurement system or an external PC, can be used to prepare a statistical analysis of results or display a time vs. value chart of sensor readings.
Laboratory tester MW 4300 features a 10.4"(26,4 cm) LED color touchscreen monitor for displaying sensor values and for the configuration parameter setup. For display and configuration, MW 4310 requires an external monitor, a PC-keyboard and mouse. "TEWS Moisture View ©" is installed in both instruments.
Brief Description
Laboratory Instruments MW 4300 and MW 4310.
Large high end laboratory instruments, with the choice of a built-in color touch screen for connecting to a PC-monitor, keyboard, and mouse. In both circumstances, the "TEWS Moisture View ©" software guarantees the simplest operation and an easily viewed results display.
MW 4300/MW 4310
Technical Data.
MW 4300 and MW 4310 introduce you to high-performance moisture and density laboratory measurement.
Electrical Power Supply: 110 - 230 V AC, 50-60 Hz
Power Consumption: 60 VA
Ambient Temperature: 0 - 45 °C
Data Interfaces: – 2 x RS 232 (COM, service) – 1 x Ethernet – 3 x USB – 1 x analog input (0/4-20 mA) for optional IR sensor (via sensor connection) – 1 x connection for Pt 100 temperature sensor – Connections for mouse and keyboard (PS-2) and VGA screen
Measurement Time: milliseconds
Data Memory: 6.000 on device, unlimited on external server
Display: Mw 4300 – integrated 10.4" (26,4 cm) LCD color touchscreen, MW 4310 – external monitor, PC keyboard and mouse
Features: Sensor for sample volumes of 1ml to 2000ml available, up to 2 laboratory sensors can be connected and Up to 200 product calibrations can be set up inside
Download our flyer
More information