MW 1100
Portable, Accurate and Universally Applicable.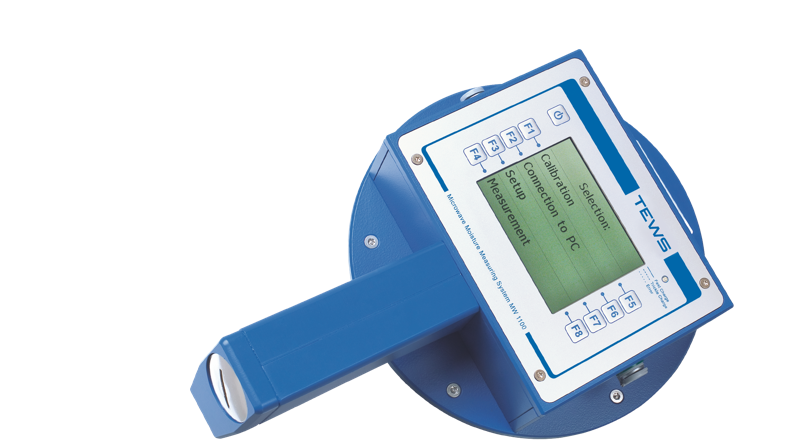 The portable moisture meter MW 1100 is a light-weight and handy model which allows operators to quickly and accurately monitor the moisture in a wide variety of products. It is intended for use in production, incoming goods inspection and quality control.
The sensor of the MW 1100 is flat and dish-like at the bottom, designed to ensure full contact with the sample under analysis. By putting the sensor on the product the measurement is done within a second and the moisture content is displayed.
Supported product temperatures range from 5°C to 60°C, are read using the integral infrared temperature sensor and are compensated by optional thermally stabilized calibration.
The compact instrument is battery-operated and features a backlit LCD graphic display and integrated planar sensor. It comes in a compact portable case containing the measurement system, a universal wall power supply and USB interface cable.
Brief Description
Mobile Measurement Instrument MW 1100.
Hand-held measurement instruments for quick moisture measurement in storage, in production, or in the field. The MW 1100 is outfitted with a planar sensor and is therefore especially compact and lightweight.
MW 1100
Technical Data.
MW 1100 introduces you to fast mobile moisture measurement.
Sample Temperature: 5 – 60 °C
Ambient Temperature: 0 - 40 °C
Measurement Time: Less than one second
Product Memory: Up to 25 products
Display: backlit LCD graphics display, screen diagonal 3,5 inches
Reproducibility: Typical standard deviation with 10 x measurement 0.5% (material-dependent)
Data Backup: EEPROM for storing 250 measurements
Data Interfaces: USB
Power Supply: NiMH battery
Median Operating Duration: Approximately 5 hours (with fully charged battery)
Protection Class: IP20
Software: Besides the on-board firmware, PC communication can be operated using the convenient software "TEWS Moisture View Lite ©".
Download our flyer
More information