MW 1150
Ideal for Routine Measurement.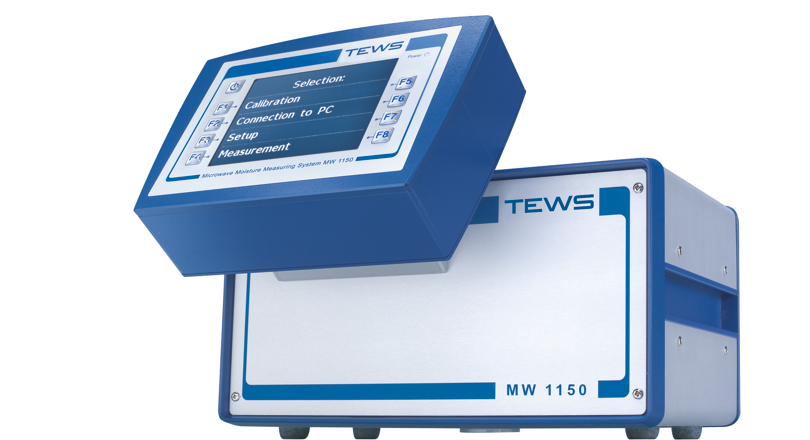 The microwave moisture measurement system is designed as a small compact laboratory instrument that can also easily be used at-line. The display is directly attached to the sensor for optimized space conditions. The MW 1150 is set up and calibrated via PC connection. It enables frequent measurements at a reasonable cost.
The system provides exact and reliable measurements in less than one second. The results are displayed on a 5.7" LCD monitor. Up to 250 readings can be stored internally for 25 different products.
Supported product temperatures, ranging from 5°C to 60°C, are read using an optional external Pt100 or infrared temperature sensor and are compensated by optional using an automatic thermally stabilized calibration.
Brief Description
Laboratory Instrument MW 1150.
The MW 1150, the measurement instrument for routine measurements in the laboratory or At-line. Clear, easy to operate, and dependable when measuring. Using a connectable P1150 Printer the results can be printed directly and documented. With the "TEWS Moisture View Lite" software the MW1150 can be easily calibrated using the PC.
MW 1150
Technical Data.
MW 1150 introduces you to fast microwave moisture measurement.
Reproducibility: Typical standard deviation with 10 x measurement 0.5% (material-dependent)
Electrical Power Supply: 110 - 230 V AC, 50-60 Hz
Measurement Time: Less than 1 second
Product Memory: Up to 25 products
Data Backup: EEPROM for storing 250 measurements
Equipment: Compact device with display, integrated sensor
Display: LCD graphic display 320 x 240 pixels with background lighting, screen diagonal 14.5 cm (5.7 inches)
Sample Temperature: 5°C – 60°C (Automatic material-dependent temperature compensation with optional temperature sensor)
Ambient Temperature: 0°C – 40°C
Protection Class: IP20
Data Interfaces: USB (for PC)
Outlets: Analogue outlet 0(4) - 20mA with galvanic separation
Software: Besides the on-board firmware, PC communication can be operated using the convenient software "TEWS Moisture View Lite ©".
Download our flyer
More information