Work Smarter With the HoloLens2 – Now Available for Rent or Purchase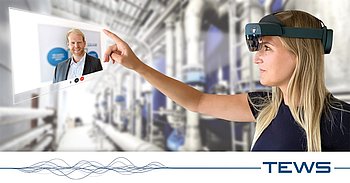 TEWS offers digital commissioning and support
Our service is available almost instantly
Benefit from digitalization and save money
Virtual support with Microsoft HoloLens2
Video chats, documents and more can be projected through holograms into the user's field of view, making interaction possible. This enables real-time virtual commissioning with a short-term notice availability.
We want to share this progress with our customers and partners and therefore now offer the Microsoft HoloLens2 for rent or purchase. With the help of the HoloLens2 a smarter, easier and more spontaneous installation of our TEWS instruments is possible - without us having to be on site. This leads to more reliability, security and time & cost savings.
While you are wearing the HoloLens2, we can guide you step by step through the installation or process analysis and solving of the TEWS instruments, as it can scan the real space around you and show you a 3D hologram of our video call all at the same time.
You can move and organize the windows in your HoloLens2 screen in any possible way. We are connected to you via Microsoft teams and can intervene instantly if questions arise since it can recognize any voice commands and understand all your movements. In addition, we can fade helpful pictures and documents directly into the field of view and mark interesting spots directly on the machines. This makes it easy for you to get our equipment up and running at your premises.
HoloLens2 will bring us a higher efficiency as there will no longer be the need of searching and booking flights, neither on waiting for the availability of engineers. This means travel expenses and time will be saved, since we can provide you an instant-real time service.
Furthermore, we offer useful manuals, our personal consultation as well as training to help you use the HoloLens in the best possible way. However, HoloLens is not the only digital service we offer at TEWS, you can also find calibration, cloud data and data analysis services as well as support. In addition, we offer you online seminars and courses and trainings, which you can find in our TEWS Academy site.
Does that sound interesting to you?
To learn more about our digital services and how to rent or purchase a HoloLens2, please contact: gethelp@tewsworks.com