TEWS Technology Integrated Into Any Existing Filter Maker to Produce Highest Quality Capsule Filters for Cigarettes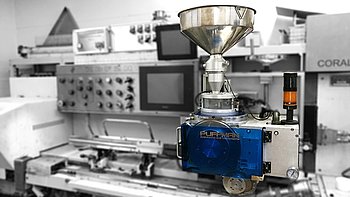 TEWS offers digital commissioning and support
Our service is available almost instantly
Benefit from digitalization and save money
Virtual support with Microsoft HoloLens2
"The system can be integrated individually into any existing filter maker. Furthermore, with Puffman Automation & Instruments TEWS brings you an exclusive developer of a cost-effective capsule insertion system called PUFFMAN CORAL. "- Andre Tews
This system can be easily installed with any existing filter maker, transforming it into a capsule filter maker which produces the highest quality capsule filters for cigarettes. Working with our microwave inspection system every capsule can be inspected for position and capsule integrity and it automatically rejects any defects like a missing, mis-positioned or broken capsule in real-time.
"We have acchieve a 6 sigma; which is the highest rate in the industry. This solution has increased customer satisfaction to almost a 100%." - Hou Ming
The wide range of available TEWS microwave sensors for the high-speed system MW 3012 makes it possible to integrate the sensor in just 550mm between the acetate tow opener and the filter rod maker. The original anchor and cold glue units are relocated beside the CORAL system. The CORAL system requires an independently driven tow opener and filter-rod section for the filter-maker.
The capsule filter insertion system achieves 100% capsule placement, this alongside with our microwave system, avoids collision and extrusion during the feeding and transport process. It uses a Siemens motion control system that always places the capsule in the desired filter rod location to produce the highest quality capsule filter-rod product.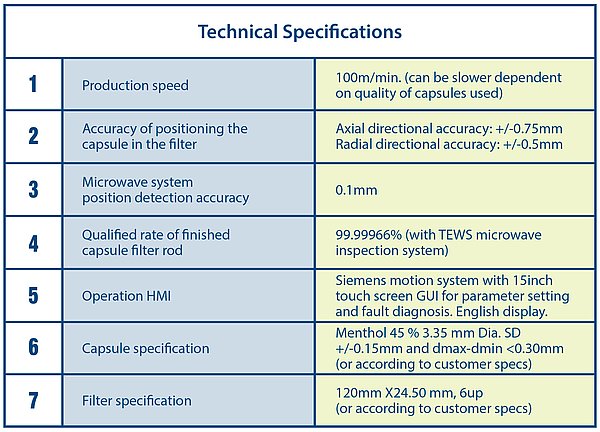 To have more information, please contact: Brian Hough, Tobacco Manager, +49 40 555 911-80, brian.hough@tewsworks.com