TEWS & Bühlers MoisturePro Moisture Control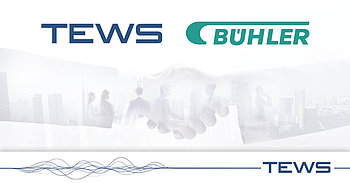 Cost savings
More efficient processes
Energy savings
These impressive cost savings can be easily made: TEWS' unique microwave technology is installed in Bühlers MoisturePro to make the process even more efficient. With MoisturePro and TEWS moisture measurement technology sustaining a 1% increase in dryer discharge moisture content, a yearly yield savings of USD 300,000 is possible for a typical feed dryer operation. In addition, USD 20 000 in energy savings can be reached by eliminating wasted energy.
As the market leader in high performance moisture and density measurement solutions, TEWS offers its instruments and sensors to various industries; one of them is the food industry. Bühler Aeroglide plays an important role here as it's the biggest player in the field of dryers. The company manufactures conveyor dryers, roasters, toasters, and expanders.
Where two experts come and work together, great results are achieved: TEWS' unique moisture measuring system is installed in Bühlers MoisturePro Moisture Control, which is an intelligent drying solution for food and feed processors offering real-time, continuous moisture management.
MoisturePro Moisture Control automates the dryer operation to optimize performance, bring-ing more product closer to target moisture. This increases overall yield by preventing over drying. The risk of underdrying is also minimized.
This is where TEWS microwave measurement technology comes in: MoisturePro Moisture Control uses TEWS microwave sensor technology coupled with controls that use algorithms. The resulting comprehensive closed loop system delivers full time automated control of the dryer.
Moisture content targets can be input by operator or by recipe control, and the dryer will automatically establish and maintain the optimal drying environment for the remaining production run. This eliminates the wasted energy and product that can result from manually attempting to reach a moisture target.