Saving energy during the drying process: Fluid bed dryer use-case in the Pharma Industry.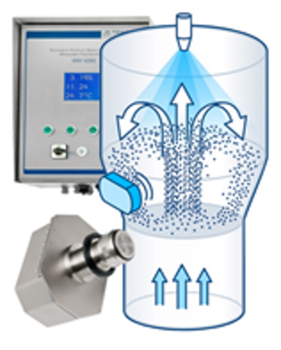 With the standards of the pharmaceutical industry being so demanding, our partners find that they spend a lot of money on energy consumption, especially in labs, research facilities and industrial manufacturers while energy saving has become one the most important topics in the last years. On the other hand, maintaining high product quality while reducing costs can be a challenge for pharma manufacturers where the production of medicine should go through different kinds of processes. But how to save energy without compromising production and the quality of the product?
Fluid bed operations such as drying are often major process steps in the production of solid dosage forms. TEWS has developed new technologies to help its partners to meet their industry requirements. We have installed sensors directly inside the fluid bed dryer, the machine that dries powders or very small pellets. This avoids the laboratory to interrupt the process, take samples, waiting for results, and then turning on the process again, measuring until the right moisture is reached. It usually means around 10% energy consumption, but also up to 75%-time savings of manual work in the lab, according to our partners who are currently the main Fluid bed dryers OEM. One of our customers, a French pharmaceutical producer, testified that by using TEWS technology, they were able to save 300 hours in the lab, and this was only in the first year of using Tews.
For the producers, moisture levels are not only a means of legal requirements but also incredibly important in regard to the efficiency of the medicine produced. Our technology plays a key role in the reduction of wasted batches, product quality and uniformity, process cost reduction, minimizes product re-work, and speeds process cycle with accurate results.