How to save energy during the drying process with TEWS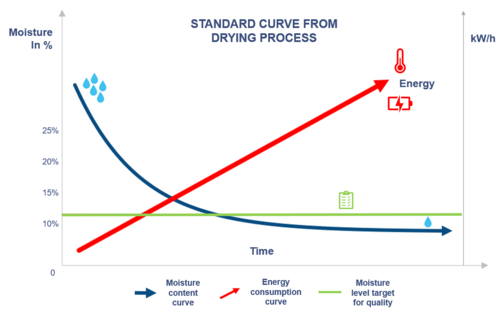 But what is the goal of drying process? The primary idea for each industry is to remove the water content from their products. Depending on the industry, it is possible to use different types of dryers (fluidized bed dryers, spray dryers, drum dryers, and belt dryers, among others) and different sources of energy (oil, gas, etc.). This works by blowing air and heating it (this is a high energy-consuming) until the water content drops to the expected level.
As you can see on a standard drying curve, the more moisture in a product, the faster the drying-out process. However, the last water drops are the most energy-consuming, being the most difficult to get rid of.
But why bother if you want to reach 5 to 10% moisture in your product? How do you know when the level is reached? It is not easy to be sure! It is here that knowing the precision of the water content measurement, will be the data that will enable you to save energy.
If saving energy is your goal, forget about controlling the moisture manually. Taking samples, going to the lab, and waiting for the results become a waste of time, and of course, money.
You still have the option to use an at-line measurement with Microwaves and get instant results, to prevent you from wasting too much time in stopping the drying process efficiently.
The more accurate moisture measurements, the earlier you can stop the process, and the more energy you can save… So, it is all about accuracy.
Usually, inline measurement solutions, such as capacitive or NIR technology, can provide instant measurements with relative accuracy since they remain on the product´s surface. Then, to be sure that the moisture target is reached, you must wait until most of the uncertain measurement results are well below the target (see illustration below).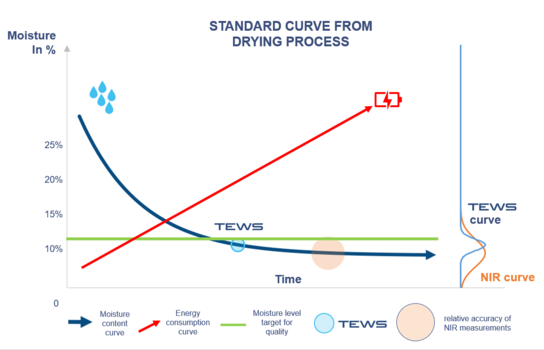 Thanks to the microwave dual-parameter method, TEWS tools penetrate the core of the product and measure both density and moisture at the same time. Thus, delivering much more precise data.
This precision enables you to stop the process earlier, knowing when the target moisture is reached with substantially more accuracy.
As proof, the results from customers in the wood, paper, pharmaceutical or food industries, all saved energy from 6 to 15% according to their production level and certainly, got a fast return on investment.
If you are interested in free consultancy of your process line and ROI estimate. Contact us for a demo.