An Innovative and Unique Approach to Measure the Moisture of Hair Switches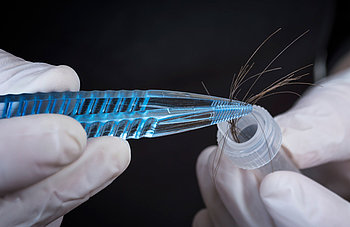 Independent of hair quantity or volume
Minimal sample preparation
Hair switches can be used multiple times
Highly accurate and instantaneous results

The measurement is not affected by density like e.g. mass, quantity or volume of hair – this leads to highly accurate moisture measurements. The technology takes advantage of the dipole moment in free water by using low power and high frequency microwaves to measure the moisture content of a sample. The sample is not effected by the microwave at all.
One major advantage is that only minimal sample preparation is required. Entire hair switches can be used multiple times which helps minimizing sample variability and costs. In addition, the results are instantaneous and therefore allow a fast data acquisition.
The correlation to the reference method is 0,998. Furthermore, the microwave resonance technology is even sensitive enough to detect the classical hysteresis.
Comparison of Moisture Measurement Methods: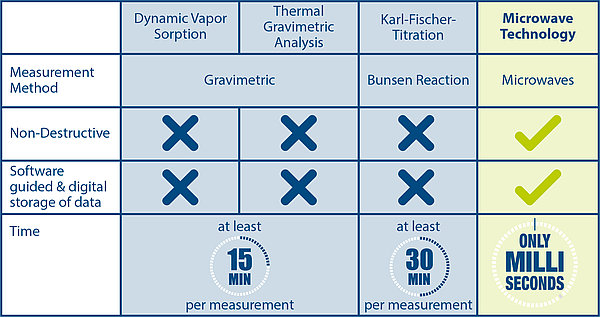 In addition, microwave technology opens a wide range of further insights. Did you know eg that hair can take up to 12 hours or more to reach equilibrium?
If you are interested to learn more about state-of-the-art moisture measurement please contact me:
Dr. Tim Richter, commercial manager, +49 40 555 911-0, tim.richter@tewsworks.com