Energy
savings – due to improved dryer control
Time
faster –in the lab due to readings within milliseconds
Quality
control – of finished products like soup cubes
Measurably better - No matter whether it is about green or roasted coffee, cocoa, cereals, oil seeds, gelatin, soft candy, snacks, pasta or nuts, our high-performance solutions are simple: we provide patented microwave measurement technology tied to passion driven services. Why all that? The answer is as simple as our solutions: to improve the production process of our clients. Or, in other words: to help our clients to achieve better results.
Our solutions have been developed and designed hand-in-hand together with the food industry and, therefore, fulfil all requirements in terms of food-grade-material.
The TEWS method enables food companies to gain high-precision data about the level of moisture content and density of their products. It's a one-stop-shop without any sample preparation to optimize the whole production process in terms of cost savings and quality control.
Best practice
How Leading Companies Benefit From TEWS.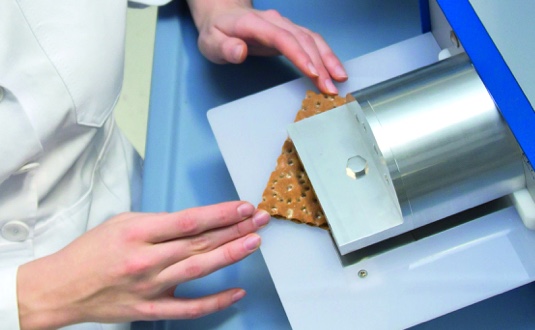 TEWS for Routine Inspection of Crisp Bread in the Lab
Crisp bread is baked in a large oven and the product is coming out of the oven in 8 parallel lines. The operator selects 8 pieces of crisp bread to get a representative moisture result.

The measurement with a conventional halogen dryer takes 1 minute for sample preparation (milling) plus the measurement time of 8-10 minutes plus additional 1-2 minutes for recording and storing the data.

With the TEWS system there is no need of sample preparation. The moisture readings are available within seconds and the data are stored automatically. Thus, for each measurement the operator saves up to 10 minutes.

With 25 samples per day and 220 working days p.a. the savings sum up to 917 hours p.a. Assuming labor costs of only EUR 25 per hour the savings amount to EUR 22,917.

Moreover, the response time for controlling the oven is reduced which, in turn, allows for a more efficient oven control.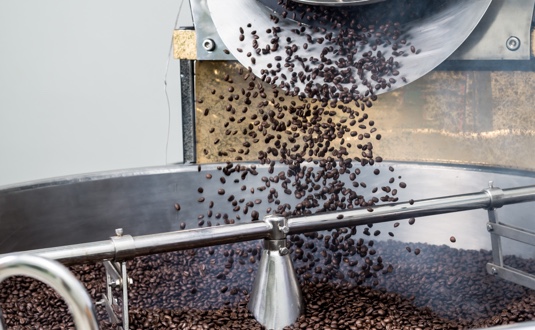 Inline Moisture Measurement of Roasted Coffee
Green coffee beans are having a typical moisture level of 11 – 12%. During the roasting of the coffee beans in a drum roaster a high temperature of ~ 230 °C will be applied. The well-known Maillard reaction will take place and the coffee develops its typical aroma. At the same time the moisture is significantly reduced. To assure that a pre-specified moisture level which might be a limit set by law (in Germany e.g. 5%) will not be exceeded the roasted coffee is measured right after the cooling stage using a process measurement system.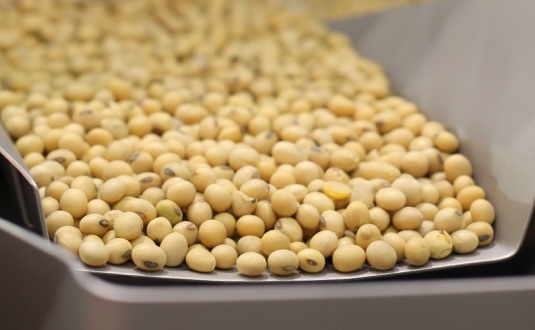 Inline Moisture Measurement of Soybeans
The harvest campaign of soybeans is 2 – 3 months/year whereas the processing takes place all year round. Therefore, the soybeans need to be stored in huge silos to enable a continuous production process. Coming fresh from the field the moisture level of soybeans is likely too high and therefore they need to be dried in large dryers before storage. In addition, it is a known fact that at a moisture level of 12% the soybeans will deliver the most oil during pressing. The TEWS microwave measurement is the optimum solution to make sure that the soybeans are dried to the setpoint for storing and to avoid over drying to be in best possible condition for the next processing step.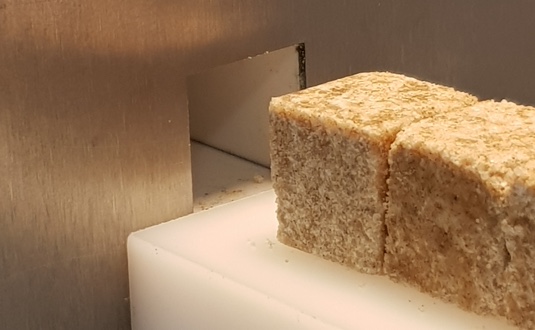 GLOBAL FOOD MAKER
Solution: Microwave With Square-Shaped Sensor
Way of use - 100% inline density measurement of soup cubes after the pressing process to control the target weight of 4,000 mg / cube

Benefit - In order to avoid any underweight of the soup cubes they are usually produced with a slight overweight. Prior to applying microwave technology the producer overfilled the cubes by up to 5% With a correlation of 0.998 compared to a balance but with a speed of up 20,000 measurements per second we are monitoring the weight and could feed back the information to the pressing machine.
By checking the soup cubes and automatically controlling the pressing process with our microwave technology the target weight can be achieved with a higher accuracy of 0.25% (+/- 10 mg instead of +/- 25 mg before).
With a production of approx. 150,000 cubes per hour one could safe material up to 30 Kg per hour or could produce addition 7,400 cubes. Assuming a margin of EUR 0.05 per cube and a production time of 15h per day this would result in opportunity costs of EUR 5,550 per day.
FOOD INDUSTRY AS A PARTNER
Water Matters.
Product quality and -efficiency can be significantly optimized by controlling the moisture content in almost all process steps. Managing the moisture of food and its ingredients is a key factor to achieve better results. TEWS patented solutions deliver high precision results. It's what matters when it comes to company goals and how to achieve them faster.
Fast Inline Measurement – The continuous moisture measurement helps to cope with changing ambient process conditions and there is no need to wait long time on the results of spot checks.
Product Quality – A precise moisture level is often decisive for the taste. And that, in turn, has an impact on the purchase decision of the end consumer.
More Profit – Precise data of water content lead to precise prices.
Energy Efficiency – Precise information about moisture allows optimization of drying processes, prevents overdrying and leads to lower energy costs.
Storage Efficiency – Precise compliance with the recommended water content prevents mold, avoids fungal infection or early degeneration and increases shelf live.
MOISTURE & DENSITY SOLUTIONS
It Takes Two.
TEWS patented two-parameter measurement solutions enable food producing companies to work with precise data in both ways at the same time. Data that relate to the moisture content of food and its ingredients as well as its density. Knowing the bulk density of food during the manufacturing process leads to even better results in terms of product quality and -efficiency.
Mass Flow and Balance Check – Accurate density information being used to assure constant filling levels e.g. in bags and to avoid overfilling or to heavy products.
Plant Efficiency – Fully automatic filling control of boxes and cartons up to 250 kg without manual efforts.
WHERE TO USE
Areas of Application.
TEWS HARD- AND SOFTWARE SOLUTIONS
Learn More About Our Patented Solutions.
Get in touch
How Can We Help You?
Selling measuring equipment for nearly 15 years now enables me to find the optimum solution for your specific needs.
Download our flyer
More information